Music Photographs
Peter Rowan, Thomas Point Beach Bluegrass Festival, August 2007
Here are two pictures from the Saturday evening closing set of the 2007 Thomas Point Beach bluegrass festival. I was fortunate to be asked to fill in on banjo with Peter Rowan's band when Tony Rice cancelled his appearance. The rest of the band was pretty good too: Mike Bub on bass and Ricky Simpkins on mandolin. It was maybe the most fun I've had on stage - I smiled through most of the set, but unfortunately these two pictures didn't catch that. Thanks to Marla Singleton for taking these photos (and the other 200-odd she took during the set.) She's a talented stage photographer - you can see more of her work at her flickr.com site.

---
Louise and Earl Scruggs, Grey Fox Bluegrass Festival, July 2004
It was a great thrill for me to meet Earl Scruggs at the 2004 Grey Fox festival. Thanks to Todd Wright, then the Artist Relations manager at Gibson and now with the Deering Banjo Company, I got to spend 15 minutes alone with Earl and had a couple of days to figure out what I was going to ask him. It's rare to be able to talk to someone who has been such a profound influence.
The first thing I said to Earl when we sat down was, "Thank you for changing my life". I've since found out how many other banjo players have said the same thing on their first meeting with him.

---
Natalie McMaster, Ossipee Bluegrass Festival, July 2002
OK, try to follow me here. I once had a banjo student named Amelia. She mentioned to me once that a friend of her parents had written a contradance tune and named it Amelia's Waltz, after her. I went out to learn the tune, and found a version of it by Natalie McMaster. A couple of years later, I used the tune to win the 2002 New England Banjo Championship at the Ossipee Valley Bluegrass Festival. Part of the prize was a two song set on stage Saturday evening. When I went backstage to get ready for my set, Natalie was warming up for her set immediately following mine, and I took the opportunity to thank her for recording the tune. She graciously offered to play it with me.

Unfortunately, Amelia had stopped taking lessons by then, and I never got the chance to thank her for starting this amazing circle of events.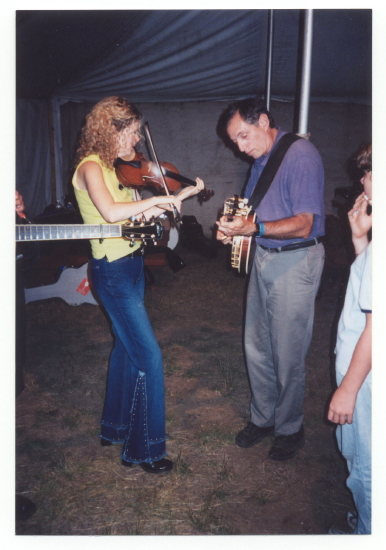 ---
Top of page | Home Page
---